Dec
20
Good day my fellow attractors,
Time has passes so fast that the Christmas Day is just less than a week from now.
It"s been raining very heavily here in Singapore and Malaysia (both are neighboring country connected by a bridge) and has caused flood here and there.
Well, I"m not trying to be negative but what I want to point out is that these weather challenges do not affect the Christmas shopping activities at all.
Orchard, the busiest shopping area in Singapore has been crowded with a huge army of shoppers. Sale, discount and offer signs are everywhere. It"s time for charging credit cards party. (A friend of mine from US told me that she has just burned her credit card on Yahoo Store!)
Not only that, this crowd of shoppers has caused a long traffic jam around the area and I can hear the local radio updating the traffic condition on that area and advice the public to take train (MRT ) instead of using their own private transport.
I know that being in the long queue with your kids bugging you to buy this and that and got stuck in a traffic jam in the middle of heavy rain where you can"t see the cars and the road clearly plus the after work tiredness is NOT an enjoyable experience especially if you"re a last minute shopper.
In fact, it will cause you a lot of stress and some may just wanna give up their lives.
Law of Attraction is always in action. When you feel stress, you will attract more stressful events into your live.
So, in such a situation, the ability to handle your stress is extremely important. Christmas is an event where everybody is supposed to be happy and take this opportunity to get together and making some connection.
What"s the point of buying those gifts, decorate your house, organize the gathering and so on if you are not happy at all, spoil relationship or put yourself into a stressful condition?
Your first step is, you must identify your goal in whatever you do. If your goal is to be happy, then do not feel stress.
Raymond, you do not understand me!
Yes, I may not understand how you feel. Perhaps that"s because I know how to handle my stress
well and I know how to avoid stress (in this case)
If you are not a person who can handle your stress very well, then I suggest you to read this book:
Stress The Silent Killer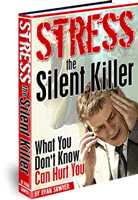 Click here to visit the website where you can make your purchase
It is not very expensive and affordable for everyone. This could be a Christmas gift to your family members and friends too who has the problem in overcoming stress.
To overcome the shopping problem such as waiting in the long queue and the stressful traffic jam, I choose to buy my gifts online. It is so easy, simple and stress free.
The best thing is that I don"t have to carry my stuffs around because it will be sent to my house via delivery service or if it is a digital downloadable product, I would get it instantly.
You can get more online Christmas shopping sites and ideas here:
The Ultimate Guide to Christmas
That"s much more than just the online shopping ideas.
Well, I still go to shopping centers once a while, not to buy, but to enjoy the Christmas atmosphere, listening to the Christmas songs aired by the DJ, see what"s new in the market and so on.
If I find something new in the market, when I find something interesting, I will go home and search for it and buy it online.
Okay, I"ll stop my rant here. Since this is a long article (compare to the length of the article I normally write), I would like to recap on what I have shared in this article.
Recap: Make sure you know how to handle your stress and remember that Law of Attraction is always in action. Buy your stuffs online to avoid the pain and the stress unless you love to wait and queue very much.
P.S. I"ll share more overcoming stress tips with you tomorrow.
P.P.S. Make sure you spend wisely.
christmas
decoration
gift
ideas
last minute
law of attraction
present
shoppers
shopping
songs
stress
If you enjoyed this article you may want to subscribe to my RSS feed. Thanks for visiting! Hope to see you again soon.
Related Articles
Please comment as a real person. Do not use your niche market as your name. This will cause your comment to be deleted. Be real and be friendly. Thank you.
Comments